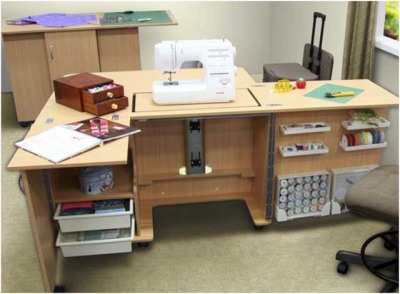 Sewing Furniture & Cabinets
Newman Sewing Machine is extremely selective on which sewing cabinet manufactures we will offer. This will include Tailormade, Horn of America, Fashion Cabinets of America, & Koala Cabinets.
TailorMade Cub Sewing Cabinet
The Compact provides flexible storage options and useful work surface in a minimum of space.
TailorMade Cutting & Crafting Center
A perfect addition to any hobby room, the cutting table provides a large stable work surface of 1.8m x 1m. The height helps reduce back fatigue caused by bending. With itâ s four fold out doors positioned magnetically, the Cutting Table is much more stable than other fold down tables in the market. Utilising this fold down design, you are ensured a tidy work area whilst providing quick access to the storage drawers and shelves. Not just for cutting, the large surface is ideal for preparation work and piecing with plenty of leg room when sitting.
TailorMade Quilters Vision Cabinet
Everything you need in one sewing cabinet - extra large surface, storage caddy and fold down design. Featuring the largest machine platform you will fit the best machines on the market here. Quilterâ s Vision is our largest sewing cabinet and its spacious design is ideal for larger sewing studios. Gorgeous in design, the removable caddy can be positioned where you feel is best. Featuring a large back leaf and side panels - it is made with quilters and dressmakers in mind.
TailorMade Eclipse Cabinet
Our most popular cabinet - featuring a large work surface with specialised storage for notions & tools the hidden drawers and cupboard can even fit your overlocker! The Eclipse provides an all-in-one sewing cabinet with the opportunity to keep everything you need to create your masterpiece within armâ s reach.
Sewing Chair
Another fine example of quality seating, available in a selection of fabrics & wood tones.