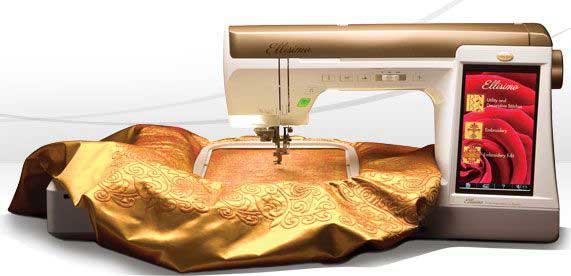 Baby Lock
Eclipse DX
The Baby Lock Eclipse DX is easy to use and includes Jet-Air Threading which is a feature that threads the machine with just a touch of a lever. The Eclipse DX has adjustable manual tensions that allow for perfect stitches on any type of fabric.
Imagine
Imagine not having to thread a machine? Well it's possible with Baby Locks most popular serger – Imagine! This machine offers Jet-Air Threading which threads the lower loopers with just a touch of a lever. It also offers Automatic Thread Delivery to thread in any order.
Soprano
The Soprano contains the Advance Pivoting Feature which comes in handy when turning corners and following curves that don't always follow a specific pattern. It includes an LCD screen, extension table, advanced needle threader, advanced pivoting, and 300 built in stitches
Verve
The Baby Lock Verve can accommodate all embroidery and sewing projects. The Verve is compact in size and loaded with features such as 95 built-in embroidery designs and 191 stitches. It's build for speed as well as precision; producing 850 SPM. The Verve is a perfect machine for anyone ready to take on the world of embroidery.
Zest
The Zest Sewing machine is a great place to start. If you're looking to put together a simple craft project the Zest is a perfect fit. It includes 15 built in stitches, free-arm swing, portable design, front loading bobbin, and a four step button hole.
Rachel
If you're an ambitious sewer, Rachel can help you get to the head of the class when it comes to your sewing projects. This versatile machine is equipped to keep up with your creativity with project-enhancing features such as 40 built-in stitches and 7 accessory feet.
Rachel has thought of everything you need to make challenging projects a breeze, like a drop-in bobbin and a built-in needle threader. From timeless, classic fashions to modern crafts and décor, Rachel will always be there to lend a hand.
Molly
Molly loves her DIY, individual style, and she always encourages you to add your own touch. This multi-purpose machine includes 25 built-in stitches, a drop-in bobbin and a 1-step buttonhole.
With adjustable stitch widths, 6 included accessory feet and a needle threader, Molly can help you bring your ideas to life with your own unique spin.