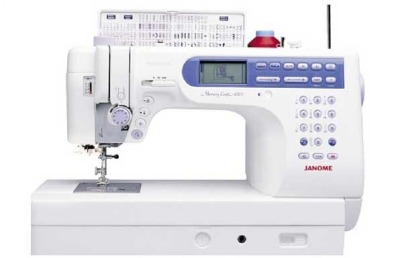 Janome
Every Janome machine is designed to maximize your sewing experience, from a basic model to the most sophisticated, interactive machines. Janome sewing machines offer ease of operation, intuitive design, cutting-edge technology and quality results. Shipping: US UPS Ground (Standard) - Free Tax free when shipped outside of Massachusetts
DC2019
The Janome DC2019 brings features that are required to complete any project. Fifty stitches, including three buttonholes, give a variety of easy convenience features. This machine features the stability and dependability you expect only from a high end machine allowing the user to sew with precision and confidence.
HD9
The HD9 Professional from Janome's fast speeds and smart design make it the ideal machine for sewing and quilting. Everything you need to complete projects quickly and easy you'll find in this sewing machine. Sewing speeds can go upto 1,600 stitches per minute to help serious sewists experience efficency like never before.
Janome 500E
Create a personal reflection of your style with the Janome Memory Craft 500E. The MC500E offers 160 built-in embroidery designs and 6 fonts for monogramming. Designs can easily be imported through a USB and edited through the machine's advanced on-screen editing functions. The MC500E offers an embroidery sewing speed of 400-860SPM to ensure your project is completed in a timely and precise manner.
Janome MC6700p
The Janome Memory Craft 6700 Professional offers the industry's first 1200 SPM (stitches per minute) straight stitch speed for professional grade performance in a convenient, top loading machine. This machine was built to perform with speed and strength and stability for faster sewing results. A high-performance sewing machine at an affordable cost.
Janome MyStyle 100
The MyStyle 100 includes 15 actual stitches including one 4-step buttonhole, sturdy design, auto-declutch bobbin winder, 300 to 800 stitches per minute and EZ change feet give you the power to create your own unique looks! MyStyle 100 also features a drop feed, snap on presser feet, a 5mm maximum stitch with and 4mm maximum stitch length, auto-declutch bobbin winder and much more!
Janome Skyline S3
The Skyline S3 includes everything you need to make sewing easier and more enjoyable; it comes with 120 built-in stitches, including 7 one-step buttonholes and 1 alphabet. The stitch quality of the Skyline S3 is excellent and is able to speed up to 820 stitches per minute in a smooth and peaceful operation. Navigation through all of these choices is simple using the backlit LCD screen.
Janome Skyline S5
Take your sewing to new heights with the Janome Skyline S5. This modern sewing machine offers comfort and convenience for you to take your sewing to a whole new level. The Skyline S5 offers a spacious bed which provides room for larger quilting and home decorating projects while still offering convenient features such as Automatic Thread Cutter and Memorized Needle Up/Down. This machine has top of the line features at a mid-level price.
M7050
The M7050 is a great machine with a versatile stitch collection that will see you through most of your sewing tasks. It includes an automatic buttonhole foot R, blind hem g, even feed foot, overedge foot c, satin stitch foot f, zig-zag foot a, zipper foot e as well as 1/4 seam foot.
Janome MC6600P
The Memory Craft 6600 Professional has the speed and precision critical to advanced sewing. The 6600 contains loads of features created especially for quilters, including the AcuFeed system. AcuFeed: Layered Fabric Feeding System ensures your sewing and quilting are even, smooth and precise on all types of fabric. The AcuFeed foot is integrated with a unique seven-point feed dog system, so your fabric is guided perfectly from the top and the bottom. AcuFeed is a unique and innovative feature - once you try it you'll wonder how you ever lived without it!
Janome Magnolia 7330
The Magnolia 7330 is the most advanced machine in the Magnolia Line. Perfect for creating any kind of home decor or sewing project, it enables you to add your personal flair to your home and wardrobe. You'll get 30 decorative stitches, and lots of great automatic features. Incorporating the same Janome precision and technology that goes into all of our machines, the Magnolia 7330 helps you define yourself at a great price.