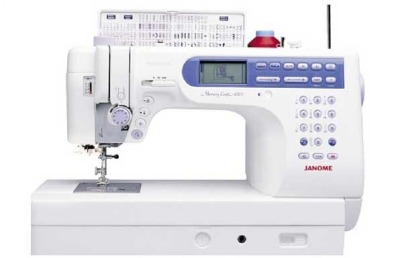 Janome
Every Janome machine is designed to maximize your sewing experience, from a basic model to the most sophisticated, interactive machines. Janome sewing machines offer ease of operation, intuitive design, cutting-edge technology and quality results. Shipping: US UPS Ground (Standard) - Free Tax free when shipped outside of Massachusetts
Horizon MC 8900
Creativity is about unlocking possibility, giving you features to expand your options, and making those features easy-to-use right out of the box. The Horizon Memory Craft 8900 QCP does this. Come away with this machine and your creativity to explore an entire world of quilting and sewing.
Horizon MC8200
Extra sewing room - With all of your essential features! The Horizon Memory Craft 8200 QC offers creativity and control right out of the box.
Janome MC 9900
Why is creating with fabric and thread so much fun? Because you get to express yourself.
The Memory Craft 9900 lets you take your creative expression in any direction you can imagine.
All the best features are here for embroidery, garment sewing, home dacor, fabric crafting, and more. All in a machine that's just the right size for any sewing space.
Janome MC6600P
The Memory Craft 6600 Professional has the speed and precision critical to advanced sewing. The 6600 contains loads of features created especially for quilters, including the AcuFeed system. AcuFeed: Layered Fabric Feeding System ensures your sewing and quilting are even, smooth and precise on all types of fabric. The AcuFeed foot is integrated with a unique seven-point feed dog system, so your fabric is guided perfectly from the top and the bottom. AcuFeed is a unique and innovative feature - once you try it you'll wonder how you ever lived without it!
Janome MC6500P
The Memory Craft 6500P is not your usual home sewing machine. It is a computerized dream machine for every type of sewist - from garments to quilting and home dec. It provides the speed and precision critical to advanced sewing and contains serious features for the serious sewist. Sewing speeds of 1,000 stitches per minute mean that your projects get finished quickly, and our advanced features ensure that they get completed easily. It also includes many features designed especially for the quilter, including specialty stitches and an advanced feed mechanism.
Janome MC6300
Some sewists want a superior quality sewing machine without a lot of fluff. Janome designed the Memory Craft 6300 just for them. This machine comes with mandatory extras like memorized needle up/down, an independent bobbin winder, and a built-in thread cutter, but with fewer decorative stitches and buttonholes than other machines in its class. 66 built-in stitches and 4 buttonholes offer the basics necessary for all types of sewing, and 9" of sewing space offer ample room for quilting and other large projects.
Janome DC2014
The Janome DC2014 brings the features you need to complete any project: home dec, garment sewing, scrapbooking, or quilting. Fifty stitches, including three buttonholes, give essential variety for your diverse sewing needs. You'll also find a variety of easy convenience features, including an auto-lock button, easy reverse, and a speed control slider. The DC 2014 also features the stability and depndability you expect only from a high end machine, allowing you to sew with precision and confidence.
Janome Magnolia 7330
The Magnolia 7330 is the most advanced machine in the Magnolia Line. Perfect for creating any kind of home decor or sewing project, it enables you to add your personal flair to your home and wardrobe. You'll get 30 decorative stitches, and lots of great automatic features. Incorporating the same Janome precision and technology that goes into all of our machines, the Magnolia 7330 helps you define yourself at a great price.
Janome Sewist 525SLE
The Sewist 525LE is the perfect machine for a beginner, and lightweight favorite for travel or classes and guild meetings. It features 25 built-in stitches and a built-in needle threader. This limited edition model offers 25 stitches, including a one-step buttonhole.